…..While Scientists Claim Recent Study Shows Cell Phone Use in Children is Possibly Linked to Malignant Brain Cancer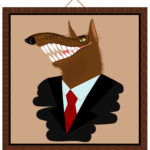 For almost two years, the City of San Francisco has been attempting to implement its Board of Supervisors' unanimous decision to require disclosure of industry-known facts and safe use instructions regarding cell phone radiation.  However, the industry's powerful lobbying arm, the CTIA Wireless Association has amassed an enormous legal team from five law firms across the U.S. to have this consumer disclosure law declared illegal.  (CTIA Files Lawsuit)
In July 2011, the Journal of the National Cancer Institute published "CEFALO-A Case-Control Study of Brain Tumors in Children and Adolescents and Mobile Phone Use"  which reported higher risks among 7 to 19 year olds.  However, the scientists overseeing the analysis concluded that because there did not appear to be an "exposure-response" relationship, they could not conclude that use of cell phones caused brain tumors in children and adolescents.
Last month, the Journal published letters by highly respected scientists refuting that conclusion stating that the published findings do indeed indicate a serious risk of brain cancer associated with cell phone use by children.  The scientists challenging the study point out that the results clearly showed a statistically significant increased risk of brain cancer after more than 2.8 years of use.    (Link to press release)
Legal defense of San Francisco's industry-challenged "Right to Know" law becomes increasingly more crucial for protecting the health of our youth.
In October, 2011, the industry's challenge to San Francisco's Right to Know law was struck down in U.S. District Court.  Judge Alsup stated in the courtroom, "They (San Francisco) are not trying to stop cell phones from being sold; they're trying to give customers some tips on how to reduce exposure to cell phones. And if it's true that the industry's own manuals call out the same problem, what's wrong with that?"
The industry appealed the ruling claiming that being required to disclose known facts about health risks and safe-use instructions violates their Constitutional first amendment right.  (We, the People Have the Right to Know the Truth).
The case will be heard in the U.S. Court of Appeals as early as this summer.
According to the San Francisco City Attorney, "The CTIA steadfastly refuses to confront: (i) there is a possible link between cell phone radiation and cancer; (ii) typically cancer only manifests itself decades after exposure to carcinogens, such that a possible carcinogen will not be definitively "proven" to cause cancer for a long time; and (iii) in the context of cell phones, this is a particularly vexing public health concern, because billions of people are using this relatively young technology with increasing frequency- on a far greater scale than people were ever exposed to asbestos or tobacco smoke. CTIA's statement that 'the unrebutted scientific evidence shows that the City's regime will not make consumers any safer' is nothing short of mind-blowing."
Dr. Devra Davis, PhD, MPH, director of the Environmental Health Trust states, "if the industry doesn't make a positive move soon, we may have a global epidemic on our hands within the next two decades. The sad thing is this is preventable. There are safer ways to make and use cell phones. We are asking the industry to give people the facts about known health risks from cell phone radiation exposure to children's brains and ensure people know how to best use these devices."
All manufacturers hide microwave radiation warnings in the fine print of every user manual that caution against using or carrying a cell phone directly against the body.  These disclosures are rarely seen and our youth continue to sleep with them on under their pillows and carry them in their pockets all day.
Other cities and states wanting to legislate safety warnings or consumer disclosure laws are waiting to see if San Francisco's "Right to Know" law will be upheld.
Maine's Rep. Andrea Boland stated, "CTIA is currently suing San Francisco as a warning to others to not go up against them. My state has also been threatened with a lawsuit by the CTIA if we pass a similar ordinance."
As the lawsuit against San Francisco heats up in the U.S. Court of Appeals, other cities and states across the US (several were threatened with lawsuits) anxiously await the result.  Senator Green of Hawaii, Senator Leno of California, Councilman Anderson of Berkeley, Councilman Vallone Jr. of New York City, Rep. Nicastro of Connecticut, Rep. Brown of Pennsylvania, Sen. Shields of Oregon, Rep. Boland of Maine and more believe that citizens have the "Right to Know" the facts concerning the health risks of cell phone exposure and suggestions for safe use at the point of sale, especially as they relate to children.